KateL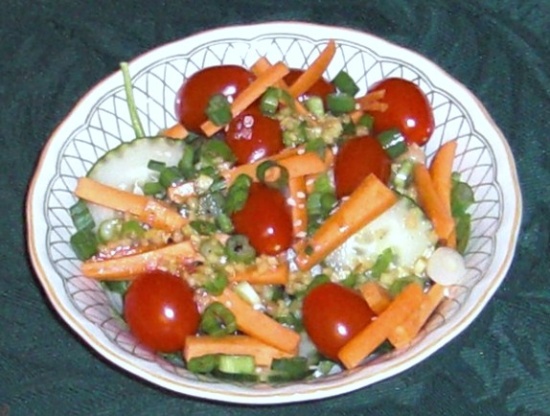 Made this last night - very flavorful dressing. I got this recipe from Cottage Living, 6/2006, and made it with some adjustments. It originally called for 3 tablespoons sesame oil, so if you don't worry about fat intake (and are familiar with the relatively strong taste of sesame oil), go for it. Added a cup of leftover grape tomatoes. Also substituted maple syrup for the honey and I think it worked out well.
Very good salad and dressing. Loved the ginger, not so much the garlic (my personal preference)! May tone that down a bit next time. I used 1 tablespoon of the sesame oil and it imparted a nice nutty flavor. Otherwise, wouldn't change a thing. Made for the I Recommend Tag Game.
Combine all dressing ingredients in a blender, food processor or covered cruet and process or shake well until blended (I let my blender mince garlic I had sliced).
Combine salad ingredients except for sesame seeds into a large bowl. Toss well with dressing and sprinkle with sesame seeds to serve.