Spinach Ricotta Mushroom Quiche (Lighter)
Demandy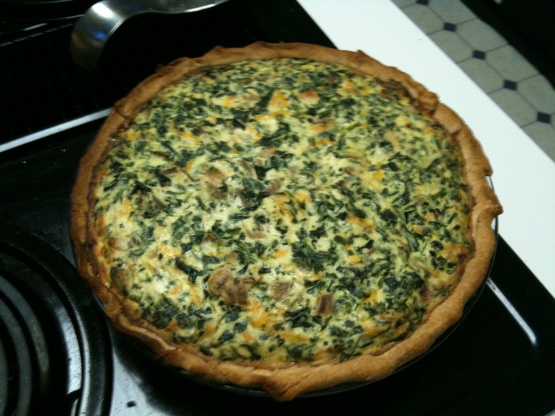 Lighter version of some other recipes, something I whipped up which happened to taste good! 22g carbs per 6th of the pie for you carb counters.
Preheat oven to 400 degrees. Prick pie shell (9" pie pan) and prebake in hot oven for 5-8 minutes until lightly browned. Turn oven down to 350 degrees when pie crust is done.
Cook spinach until thawed and warm. Drain very well, squeezing excess moisture out with hands. (Do not precook spinach if using fresh).
Saute onion, garlic and mushroom with cooking spray and stir in spinach, salt, nutmeg and black pepper.
In separate bowl, combine milk, cheesed and eggs and blend well. Add spinach mixture and stir well.
Pour into prebaked pie shell and bake at 350 degrees for 50 minutes or until custard is set.