Spinach & Ricotta Cannelloni
Sara 76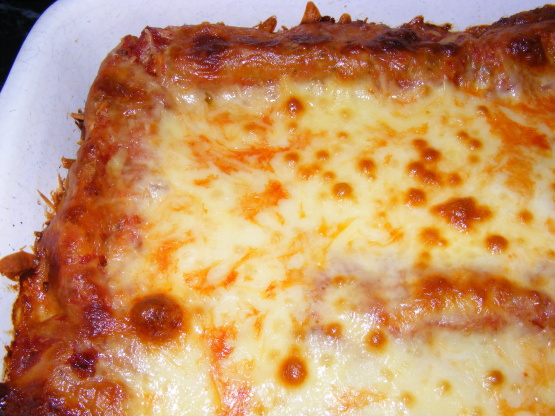 This recipe is so easy, but so yummy, and looks really impressive!

I love this recipe. Nutmeg is key here! The flavors are wonderful. I made with my own pasta sauce and a combination of mozzarella and asiago cheese. [made AUS/NZ recipe swap #20, 2008].
Heat the oil in a pan, and cook the onion and garlic until tender. Add the spinach and cook for 2 minutes, stirring often.
Place in a bowl, and add the ricotta, eggs, nutmeg, salt, and pepper. Mix well.
Stuff each canneloni tube, and put in a baking dish.
Pour the jar of sauce over the pasta.
Top with cheese, and bake at 180C until cheese is golden, and the sauce is bubbling (about 30 minutes).