Kathy228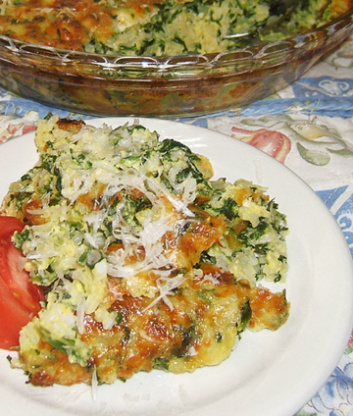 This is a great recipe if you like spinach and feta cheese. The times I've made it for other people, they really enjoyed this unusual rice dish. I used white rice in this recipe that was freshly made for the recipe, but I think that leftover rice would work too. I also used Kraft Parmesan cheese, but think that freshly grated Parmesan would be even better.

This is one of our favourites and shows up regularly in "the rotation". We made it a bit healthier by using brown rice. Sometimes we like to substitute broccoli for the spinach. Sometimes we like to use caramelized shallots, asparagus and brie for a completely different taste. We also cook them in large muffin cups rather than pie plates -- makes leftovers more portable.
Preheat oven to 400 degrees.
Melt butter in a large skillet over medium heat.
Add chopped onion and saute for 3 minutes.
Stir in flour, salt and pepper.
Gradually add milk, stirring with a whisk until well blended.
Bring mixture to a simmer and cook for 1 minute or until slightly thick, stirring constantly.
Remove skillet from heat and stir in the cooked rice, feta cheese, egg, egg whites and spinach.
Pour mixture into a 9 inch pie plate coated with cooking spray.
Sprinkle Parmesan cheese over pie.
Bake for 35 minutes or until set.
Broil for 2 minutes or until pie is golden brown.