Prep 25 mins
Cook 40 mins
This very good recipe comes from Better homes and Gardens
Directions
In a large saucepan cook the onion and garlic in hot oil until onion is tender but not brown.
Add undrained tomatoes, and oregano or basil.
Bring to a boil; reduce heat.
Simmer,uncovered, about 3 minutes.
Meanwhile, place tofu in a food processer bowl or blender container.
Cover and process or blend until smooth.
Add tomatoes to mixture.
Stir in cooked rice, spinach, half of the swiss cheese, the salt and pepper.
Grease a 2 Quart rectangular baking dish.
Spoon mixture into casserole.
Bake, uncovered in a 350 degree oven for 30 to 40 minutes.
Sprinkle with remaining cheese and toasted sesame seeds.
Most Helpful
I just finished making this dish for dinner. I give it only 3 stars because I thought it was a little bland. Perhaps extra spices wuold kick it up a notch. Will try it again, with a bit of doctoring.
Nice recipe, though at first I thought it needed less tofu; then I realized that I had included a 12 ounce package of tofu, not just 8 ounces (12 was the smallest size I could find in the store). So, this gets 5 stars if you use the specified 8 ounces. I've never processed tofu like this, and it turned into a substance that looked like sour cream and gave the casserole a creamy consistency. I used a bit of extra cheese, cooked the brown rice in vegetable broth and only added 1/4 teaspoon salt. I used the basil instead of oregano. We ate 2/3 of this for a one-dish dinner. The colors on top were very pretty before I added the cheese and sesame seeds too, but I didn't take a picture of that:( Thanks Barb!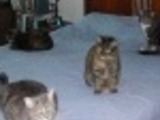 I chose to make this recipe because I loved all the ingredients such as brown rice and tofu, etc. But I was delighted to find that this tasted even BETTER than I thought it would!! I made it for some quite "tofu skeptical" eaters, and they found it to be wonderful. I would recommend this to anyone who is trying to add some soy or tofu into their diet, but have not yet aquired the taste for "plain" tofu yet. I'm ashamed to say that I had to substitute 2 cups of leftover rice pilaf for the brown rice, since that was on hand at the time. Also the swiss cheese was a really nice surprise! Tasted terrific with all the other ingredients.