Peter J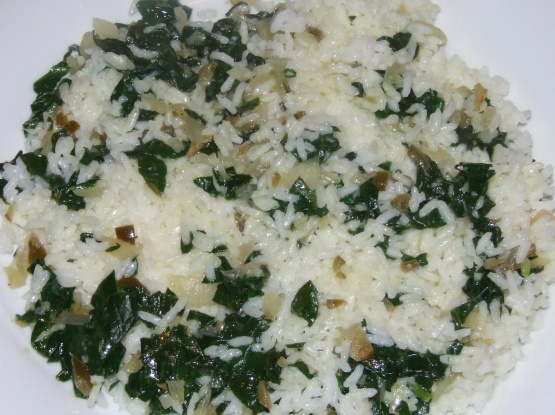 This is a healthy and filling dish. I like it mainly because it is easy to prepare and serves the purpose of a hassle free main course. Great dish to serve at get togethers too.

Top Review by Kohtzy
We loved this dish! We used uncle ben's wild rice, so we cooked that separately (according to the directions on the box) from the spinach mixture, and then put them together to bake. It turned out excellent, and is a dish that we can't wait to make again!!
Heat butter on low heat and add rice, milk and salt and cook for 1 minute.
Heat the oil and fry cumin seeds until they begin to crackle.
Add onion and fry for 1 minute.
Then add the green chilli and fry for some time.
Add spinach and salt and cook till spinach is soft.
Spread spinach at the bottom of a greased jelly mould.
Spread the rice on top.
Press well and cover.
Bake in a preheated oven for 10 minutes at 400°F.
While serving, invert on a plate and serve with hot cream of tomato soup ro any other thick soup.