Spinach Ravioli With Chicken and Cheese Filling
Pamela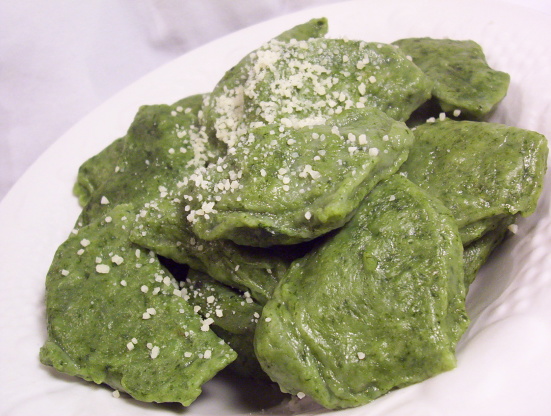 Homemade goodness and gourmet taste! This recipe works great in those perogy maker molds. Serve these with your favourite pasta sauce, tomato or alfredo work well. (This recipe was created for RSC number 6)

The dough is very tender and quite workable (contest being over, I admit I skipped the powdered milk and went with the real thing). In kneading and forming the ravioli dough (I used my good old pasta machine) I added a fair amount of flour to the dough. The result was a soft, toothsome dough, a mildly tasty filling. I served it with a spiced-up homemade marinara and additional grated reggiano--quite delicious. Thank you for a creative use of the contest ingredients and a delightful recipe.
For the dough:.
Cook as directed on package, or until leaves are soft.
Drain well and remove all extra water.
Add drained spinach, eggs, oil, and salt into a blender.
Mix milk powder with water and add to blender.
Cover and blend on medium speed until smooth.
Measure flour into a large bowl.
Add spinach mixture and mix well by hand.
Dough should be easy to work with and not stick to your hands, (if too dry add water, if too wet add flour).
Gather dough into a ball.
Knead on floured surface until smooth and elastic, about five minutes.
Let rest 10 minutes.
For filling:.
Scramble fry the chicken with the spices until chicken is white.
Remove from heat and add cheese.
Add egg and mix well.
To assemble ravioli.
Divide dough in half and roll out dough 1/4 inch thick.
Using a round cookie cutter (or drinking glass) cut dough into circles.
Place a spoonful of filling in each circle, then fold over to form a half circle and press the edges together with the fingers.
The edges should be free of filling.
Be sure the edges are sealed well to prevent the filling from running out.
Repeat for each ravioli.
When all ravioli are made, cook in boiling water for 15-20 minutes until cooked through, (The cooking period will depend upon the size you made it, the thickness of the dough and the filling)
Stir to separate them and to prevent them from sticking to the bottom of the pot.
Drain and rinse well.
Serve with your favourite pasta sauce.