Spinach Ravioli Casserole With Alfredo Sauce
Bergy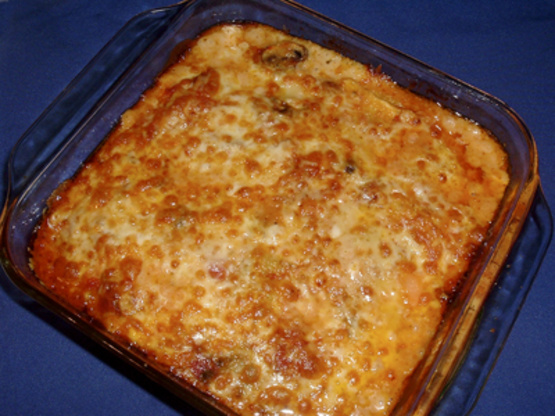 I would normally make my own sauce & ravioli but I have been rushed, then realized that I had this in the fridge and threw this recipe together. I enjoyed it and hope that you will too.

Bergy, Bergy, Bergy-what a great casserole! The combo of the alfredo and red sauces enticed me, as did your gorgeous photos. We enjoyed this with a green salad and garlic bread. A great, comforting, cheesy dish for a family fall dinner. Thank you Bergy. Made for the Bergathon (tx back at ya for all you do and for creating our elves cookathon!)
Lightly grease a 9 x 9 x 3-inch oven proof dish.
Preheat oven to 350°F.
Pour enough Alfredo sauce to cover the bottom bottom of the casserole (approx 1/2").
Top with a single layer of ravioli, a third of the mushrooms and 1/3 of the mozzarella.
Sprinkle with 1/3 of the chili flakes and 1/3 garlic, season with salt & pepper.
Repeat layers saving 1/3 of the mozzarella & the parmesan.
On the last layer pour in the chili sauce spreading it evenly over the top.
Cover the casserole with foil; bake for 45 minutes, remove foil.
Top with remaining mozzarella & the parmesan, continue to bake uncovered for approx 15 minutes or until the top is beautifully browned.
Rest 10 minutes and serve.