Dainlynn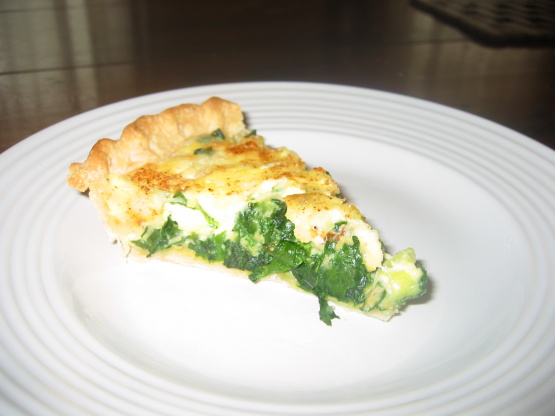 A simple, yet elegant, vegetable pie.

Top Review by Judy42
This was delicious for brunch. The next time I make it I'm going to try frozen spinach. I have to make two to feed my family and this would make life easier. I never did find mace at any grocery stores I shopped in. But it was delicious without it.
Beat eggs; add cream, then beat again.
Wash the spinach under water, and remove all the stems, piling the wet spinach into a large pot, adding no water.
Cook over medium heat, turning and stirring, for 5 minutes; then drain thoroughly in a colander, squeezing the spinach dry.
Take a pair of kitchen scissors and snip the drained spinach into tiny pieces.
Season the spinach to taste with salt and pepper.
Line pie pan with pastry or crust; place spinach in crust, top with grated cheese, add cream, sprinkle with mace, then dot with small bits of butter.
Place pie pan on a cookie sheet and bake in a preheated 350 degree F oven for 40 minutes or until domed and light brown.
Cool 30 minutes before slicing and serving.