Spinach Polenta With Balsamic Tomatoes
Prep 30 mins
Cook 30 mins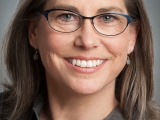 This recipe, with a few minor additions, is from Donna Hay's OFF THE SHELF: COOKING FROM THE PANTRY. (2001) I highly recommend all her cookbooks. The photography is beautiful and the recipes inspiring. This can be served as a main dish or a side dish.
Directions
Preheat the oven to 400 degrees.
Slice the tomatoes in half. Place the tomatoes, cut side down, in an ovenproof ceramic dish. (Make sure the size of the pan fits the tomatoes. A 9 x 13 works well for large sized tomatoes. If the pan is too big, the pan juices will bake away.)
In a small bowl combine the oil, balsamic vinegar, sugar and oregano. Pour over the tomatoes.
Bake for 20 minutes or until the tomatoes are soft.
Make the polenta while the tomatoes are roasting. Place the water and milk in a saucepan over medium to high heat. Bring to a boil. Slowly whisk in the polenta.
Reduce the heat to low and cook the polenta stirring constantly for 3-5 minutes or until done.
Stir in the parmesan, spinach, and butter. Remove from heat. Taste. Add salt and pepper to taste.
To serve, spoon the polenta onto individual plates. Place tomatoes directly next to (touching) polenta and drizzle pan juices over the top of tomatoes. Finish with extra parmesan sprinkled over the polenta.
Most Helpful
I used a white balsamic vinegar in the tomatoes and it was wonderful. I also would wilt or chop the spinach before I added it to the polenta. My polenta was not as firm as I like it but the taste was wonderful and I especially loved the tomatoes! Made for PAC Fall '09

This is fabulous!! I would make more tomatoes next time. I would also either double the polenta or halve the spinach. Anothe idea would be to wilt the spinach ahead of time. There was a large proportion of spinach to polenta & it didn't wilt much when stirred in. I added 1 minced garlic clove to the water/milk mixture. This will definitely be made again - vey fast, easy & yummy!! Made for PAC fall '08.
One of the best polenta recipes I've tried in ages! I halved the recipe with no problems, and it made 2 perfect servings. Thanks wood stove stoker!