Spinach Pinwheel Appetizers
Ms B.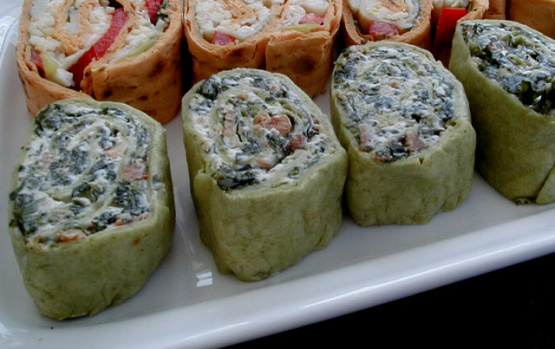 These are pretty to look at, but even better to eat! Enjoy!! I can't remember how many pinwheels you get, but I know it makes a lot.

Top Review by Ms B.
I made some alterations to these pinwheels (due to ingredients on hand), and hadn't planned on rating them...but, my guests loved them. I couldn't deny Keen5 the credit after all of the great reviews that I received when serving these appetizers. I didn't have frozen spinach, but had fresh baby spinach leaves. Rather than chop and mix the fresh spinach into the cream cheese mixture, I made my modification as follows: spread cream cheese mixture on flour tortillas; layer baby spinach leaves; layer a slice of shaved smoked turkey; rollup tightly; slice; eat! These were soooo good. They were the first appetizer tray to be emptied.
In medium mixing bowl, combine cream cheese, sour cream and mayonnaise.
Beat in dip mix.
Add green onion, bacon bits and spinach (broken up into small clumps).
Mix thoroughly.
Spread mixture onto tortillas, leaving a 1/2" space around edge.
Roll up each tortilla tightly, and wrap each in plastic wrap.
Chill for several hours or overnight.
To serve, cut off ends and cut into 1/2" slices.