This is a quiche-like healthy dish. Can be used for appetizer or entree.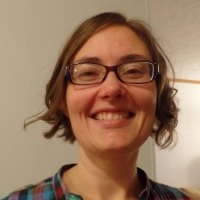 I wavered between 3 and 4 stars for this. I settled on 3 because as written I consider it a good starting point, but I wouldn't make it again. I thought it was dry and kind of bland. I baked it for only 27 minutes when I noticed it smelled done, so I'm glad I checked on it at that point. All of that being said, I've made it two more times since then because my hubby likes to eat it for breakfast. The first time I tried just adding in a second egg and more onion and garlic. It was improved, but hubby said it was too eggy now. So last time I went back to one egg and added in more ricotta, that time it was a winner for him. Thank you for posting. I made this for PAC Fall 2012
Open cresent rolls and press into pie plate.
Thaw out spinach in microwave and squeeze to drain water out of it and put it in a mixing bowl.
Saute onions and garlic in butter.
Add onion mixture to spinach.
Add ricotta, parmesan, breadcrumbs, and egg.
Putfilling in the pie crust.
Bake at 375 degrees for 35-45 minutes.