Zaney1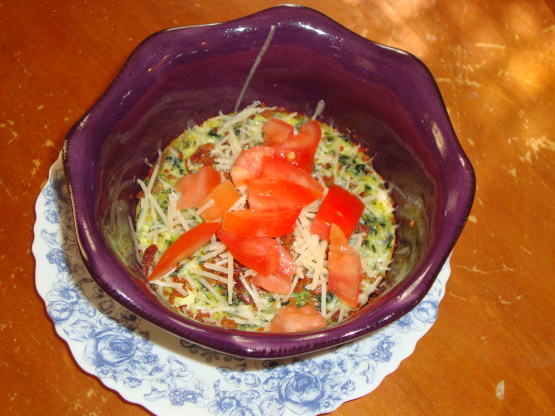 This recipe comes from a Pillsbury recipe card book. This is part of my effort to get my family to eat more spinach. It's good for them! The spinach flavor is very mild in this. I used sunflower kernels instead of pine nuts b/c pine nuts are so expensive. Whipped up quickly and is quite tasty. No one but myself likes spinach in my house but they all enjoyed this. It is very cheesy.
Heat oven to 375.
Lightly spray 4 10 oz custard cups or ramekins with cooking spray.
Place cups on a baking sheet with sides.
Sprinkle pine nuts in an ungreased heavy skillet.
Cook over medium heat 5-7 minutes until nuts begin to brown, stirring often.
In a medium bowl, mix spinach, cottage cheese, monterey jack cheese, pesto and toasted nuts.
Stir in eggs and milk until well blended.
Divide spinach mixture evenly among cups.
Bake 25-30 minutes or until set.
Cool 2 minutes.
Top with bacon, tomato and parmesan cheese.
Garnish with basil leaves if desired.