Spinach Penne, Peas and Shrimp in a Cream Sauce
Rita1652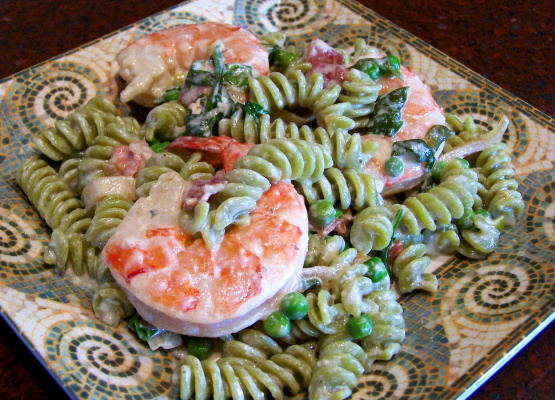 Oh wow; this is a quick, easy meal that is sure to impress anyone. Tastes straight from the restaurant. I found it in one of my old cookbooks. The combination of proscuitto, cream, peas, shrimp and gorgonzola cheese is simply out of this world. You may substitute any pasta that you like for this recipe, though. Perfect with candles and wine for a romantic dinner. Simply delicious!

Yes quick and easy! I started this recipe by sauteing 1 sliced onion and 2 minced cloves of garlic in olive oil. NOT part of the recipe. Then added the prosciutto and sauteed till crisp. Added 2 cups of baby spinach (NPOR) to complement the spinach pasta. Poured in the cream and cheese. Seasoned with fresh grated nutmeg. Added 1/2 pound of peas. The raw large deveined shrimp cooked in the pasta pot just till they changed color, About 1 1/2 minutes. Removed the added the pasta to the shrimp water. Removed the shrimp shells when cool enough to handle, left them whole But would be better if cut in half. Then added to the sauce. The shrimp can be cooked right in the cream sauce if you don`t mind handling the shrimp in a cream sauce to remove the shells or use shelled raw shrimp. Then tossed in the cooked pasta. The directions are not very clear but this is a great recipe as I made it. Made for PAC http://www.recipezaar.com/bb/viewtopic.zsp?t=327498
1

lb spinach penne

2

cups light cream

4

ounces gorgonzola

1

package frozen peas
1⁄2 lb shrimp
salt and pepper
1⁄4 lb prosciutto (or italian ham)
Boil water and add shrimp until they turn pink, immediately remove and set aside.
Next, cook penne or your pasta until al dente and set aside.
Chop gorgonzola cheese into small pieces and slice proscuitto into thin small strips.
Using a large pot, cut gorgonzola cheese in little pieces and place in pot with cream.
With stove on medium, stir mixture until cheese has completely melted.
Add peas and proscuitto while mixing, taking care not to let sauce burn.
You must make sure the cheese has completely melted.
Gorgonzola can be very strong, but is very easy to melt this way.
Add the shrip and salt/pepper to taste.
Sprinkle parmesan cheese over the individual servings.
This makes an elegant and delicious dinner, quickly and very easily.
Enjoy!