megs_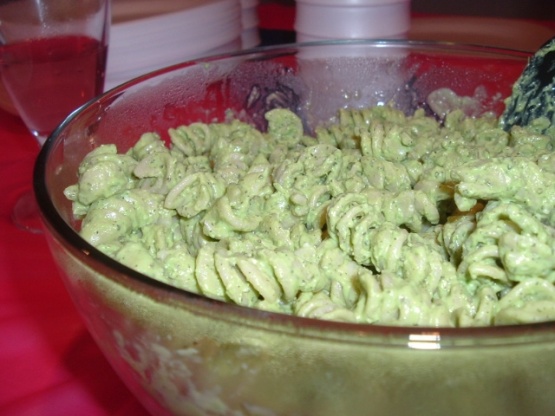 A wonderful and light pasta salad. I serve in a bowl lined with fresh spinach leaves. I got this recipe from Better Homes and Gardens.

This is a taste sensation! We had a few friends around for a barbecue last night and I made this pasta salad, it was extremely popular. I gave the recipe out to a couple of my girlfriends and they were almost shocked that Id made the 'pesto' myself! cheeky eh! Great garlic flavour too, A good grinding of black ground pepper was the only extra addition, thanks for sharing.
In a blender combine spinach, basil, garlic, cheese, salt and pepper.
Add oil and water, cover and blend until nearly smooth and mixture is a paste.
Add mayo to the spinach mixture.
Add to pasta and toss well to coat.
Chill at least 4 hours covered.
Can be made the day before.