Spinach & Pasta Bake(2.5 Ww Points)
Nif_H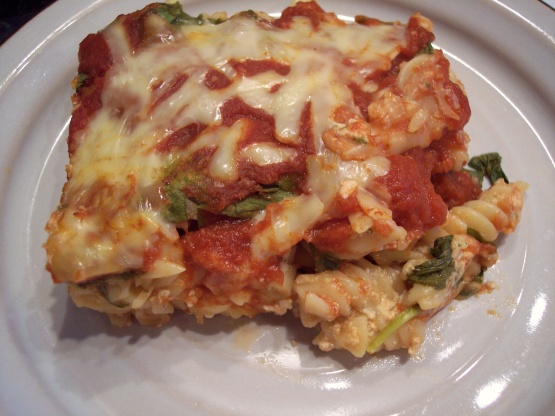 from angelfire.com.UPDATE:1-13-09 made last night and hubby loved it,said it had nice flavors that blended well together. I sprinkled some italian seasoning in the ricotta mixture and i also sauted some mushrooms to layer with everything else but i forgot about them and ended up putting them on the top at the end and that actually worked really well.lol I used a 8x8 casserole dish.UPDATE 2-18-09: made this again and added some cooked chicken to the mix and it was great. I sprinkled the chicken with italian seasoning and grilled it on the george foreman. excellent!

Top Review by Nif_H
Really good dish! I would even add more spinach and maybe some sauteed mushrooms or any other veggies that sound good at the time. I like your idea about the chicken too! I stirred the pasta and ricotta mixture together because I was having problems layering it! Then I topped the whole thing with the spinach, sauce and mozzarella and it turned out great! The only thing is that it worked out to 5 points per serving. I had low fat ricotta instead of fat-free, but it shouldn't make that much of a difference. I also used high fibre white pasta. I am not complaining about the points! The size of the serving is great for lunch and 5 points for this isn't bad at all! Made for My 3 Chefs. Thanks! :)
Cook noodles until slightly under done. In a small bowl mix ricotta cheese, Parmesan cheese and parsley flakes. In an oven safe dish layer pasta, cheese, spinach and sauce until all ingredients are used. Save a small amount of mozzarella cheese to sprinkle on the top. Layer ingredients 2 to 3 times depending on the size of the dish. Top with mozzarella cheese. Bake at 375º for 35 to 40 minutes.
Makes 8 one cup servings.
Per Serving: Calories -- 126 Fat -- 2 g Carbs -- 18 g Sodium -- 291 mg Fiber -- 1.2 g.
Diabetic Exchange: 1 meat (medium) + 1 carbohydrate.