loof751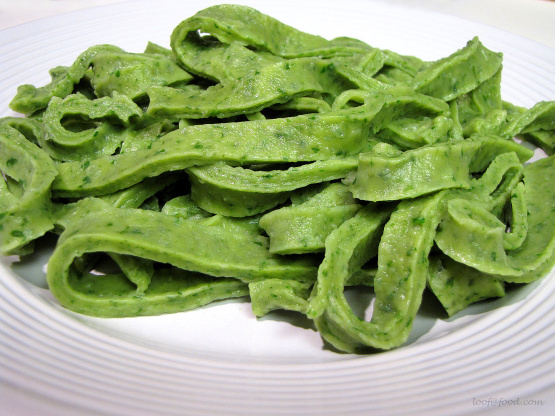 Just one version. I don't use a pasta machine but you can if you want. There are lots of variations for differently colored pastas, this one is a rich green and has lots of spinach in it to sneak veggies into the kids. Raviolis take more time. Times listed are for fresh.

This recipe makes yummy pasta! I made 1/3 of the recipe; I used fresh spinach and ran it through the food processor with the egg as you suggested. I didn't have any trouble kneading the dough to the right consistency but apparently my rolling-out skills are not up to par; I didn't get the dough thin enough and ended up with more of a dumpling than a noodle ;) Still cooked up tasty with a nice texture though; I was serving with a stroganoff-type meat and sauce so the thicker noodle actually worked out ok with that. I will definitely using this recipe to make my own pasta again - thanks for sharing the recipe! Made for Fall PAC 2012
Thaw out the spinach in hot water and squeeze dry using a towel.
Finely chop the spinach, or better, put it in a blender or Magic Bullet or whatever you have with the eggs and salt. Blend well.
Pour flour on the counter and make a large well in the center.
Pour spinach/egg mixture in the well.
Start mixing with your fingers bit by bit, until all flour is worked inches.
After all flour is incorporated, knead NO SHORTER THAN 10 minutes to elastic and smooth. Use LOTS of flour if necessary to prevent dough from sticking. It should be dry but not crumbly in any way. Sort of vaguely moist.
Cut dough in half, wrap one half in plastic wrap and set aside.
Roll out dough to 1/16" thick, turning and stretching. It needs to be thin, because it doubles in thickness when cooked.
Use a cookie cutter to cut fettucini, or use a 4" round cutter to make ravioli, or whatever you want.
Separate and lay on racks to dry for one hour, or use fresh. If doing ravioli, mix up the stuff and put 1/2t filling in and press closed, then dry. You can freeze these too, put wire rack in freezer and freeze one hour, then put in a bag to finish freezing. *They WILL stick together unless you do this*.
When you go to cook these, cook in LARGE pot FULL of super boiling water with a lid on for 3 minutes if fresh (until they rise to the surface) or 7-8 minutes (they will rise) if frozen.
YUM! Eat them! Make great gifts!