Spinach Mushroom Couscous
DuChick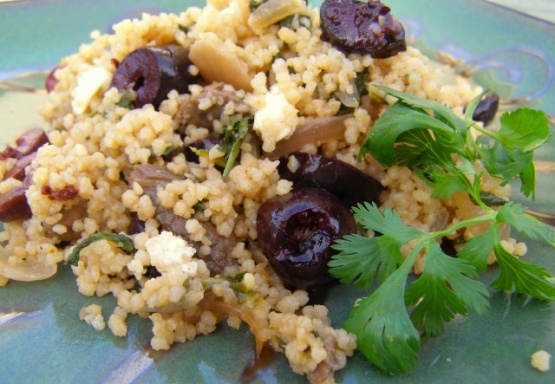 This is a healthy one dish meal that can be made in 30 minutes. Can use regular couscous, but I prefer the whole grain variety for this dish because it has great texture.

Mm, mmm, mmmm! I love whole wheat couscous and everything in this dish! The flavors all meld so well together that it tastes just as good cold as it does warm...(I had some for breakfast!) I used low-fat feta to cut some calories and also added twice the garlic just cuz I could! Will be making this again and again. Thanks Maureenie!
Bring broth, salt, and 1 teaspoon oil to a boil in a medium saucepan.
Stir in couscous. Cover.
Remove from heat; let stand at least 5 minutes.
Heat 12-inch skillet and add 1 tablespoon oil, garlic, and onion. Saute for 5 minutes or until onion becomes translucent.
Add mushrooms and saute another 5 minutes.
Add spinach and toss well to coat leaves with oil. Saute 5 minutes.
When the leaves are wilted, remove skillet from heat. Add prepared couscous, olives, cheese, lemon juice, pepper, and cilantro.
Mix well and serve.