Spinach Mushroom Cheesy Quiche
JuliaTN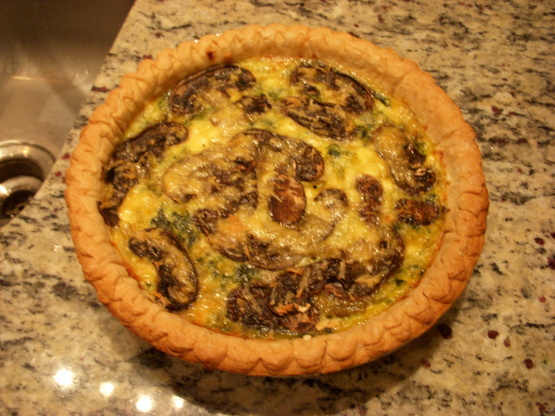 This is a really garlicious, cheesy recipe that only takes 5-10 minutes prep time

This was delicious! I made it for a birthday brunch for my Mother in law. The feta cheese on it was soooo good. Everyone ate it up and there wasn't a crumb left. I did cut down on the spinach. 3 cups just seemed a little much but I probably did use about 2 cups which filled the bottom perfectly and then I made the mistake of only using half the amount of mushrooms thinking it was a lot but I forgot how much they shrink! I used only 2 cloves of garlic instead of 4 and shredded cheddar instead of grated. I should've made 2 of these because it went so fast and everyone was talking about it the whole meal. Thanks Julia!
Heat olive oil in a saute pan, toss spinach until it cooks down.
Combine fresh garlic, onions, milk, eggs & grated cheese.
Mix parmesan and garlic powder together (do not combine with other ingredients).
Spread spinach out in the pie crust.
Pour egg mixture into crust.
Arrange mushrooms and feta over the top
Sprinkle with parmesan/garlic mixture.
Bake for one hour at 350.