Parsley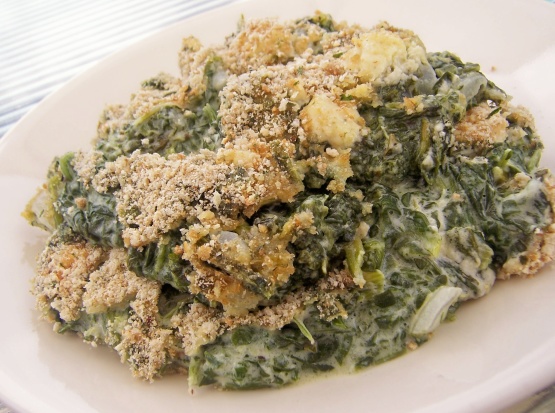 Originated at Green Springs Inn in St. Francisville, LA by Madeline Nevill, this dish has become a favorite nationwide. (From Tony's Seafood in Lousinana website). Need I say more? Yum. ;) Since the garlic cheese roll is hard to find in some areas (mine included) you could substitute Boursin, Alouette or Rondele as they make spreadable flavored fresh cheeses in garlic flavor.

Oops - you forgot to add the pot liquor (spinach liquid) to recipe: When slowly adding milk to onion mixture, add 1/2 cup pot liquor as well - this will cut down on the richness and add even more flavor! Also, Kraft has apparently stopped making garlic cheese rolls since the normal holiday display isn't up at my local grocery stores. Substitute 4 oz. Regular or Mexican Velveeta and 2 oz. Old English Cheese Spread, add a little garlic powder or juice (to taste) and it's pretty close. Great recipe and a "given" on our Thanksgiving and Christmas buffets! Enjoy everyone! BTW, from La. and wanted to tell your husband "thank you" for helping with the recovery (read your bio). I'm in north La. and helped w/ displaced citizens - the outpouring of volunteer support from around the country helped make the pain of losing everything not quite as biter. Thank you again.
2

(10 ounce) boxes frozen spinach, cooked and drained (reserve 1/2 cup liquid)

2

tablespoons flour

1

onion, chopped (medium size)

1

(6 ounce) garlic cheese rolls, cut into small pieces (this is cheese NOT BREAD)
1⁄4 cup butter
salt & pepper
1⁄2 cup evaporated milk
3⁄4 teaspoon garlic salt

1

tablespoon Worcestershire sauce

1

dash hot sauce (Louisiana Fish Fry brand or favorite)
breadcrumbs
Melt butter, add onions and flour; stir until smooth.
Add the milk and mix well.
Add the rest of the seasonings and 1/2 of the cheese roll, and stir until cheese melts.
Combine all ingredients except bread crumbs and remaining cheese in casserole dish.
Top with the crumbs and cheese held aside and bake at 350 for 20-25 minutes.
Serve along side fried chicken, salmon, pork chops, you name it and a generous helping of corn bread anything - ENJOY! ;).