Spinach, Like You Have Never Had
loof751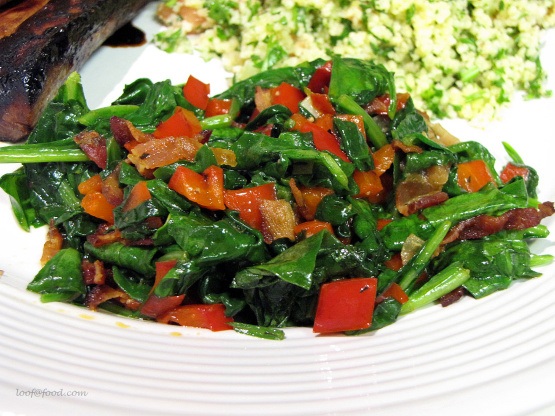 My good friend Bev cooked this one day at a friends place. She had never been a spinach fan. Whole new way to look at the old "silver beet" which is a brother to the more insipid English spinach. Can be a breakfast dish with a few eggs, luncheon with a sprinkle of cheese, or side dish. Anything a little different is nice for a change :)

Divine (or is that DEVINE?) mumma made this for us for brunch this morning topped with her own home grown poached eggs. What a fantastic way to start the day.
Shred the green leaves from the white stem, and wash both thoroughly, drain.
In a frypan with a little olive oil, fry some chopped onion, garlic and bacon (capsicum optional). When limp add a dash of pepper and curry powder.
Chop the stems and add them to the mix, cook a few minutes, stirring.
Add the shredded leaves and stir, cover and steam 2 mins, or until done the way you like it.
(There should be enough water on the leaves to steam effectively, but you can add some if you have too.).