Spinach Lemon Chicken Breast
vrvrvr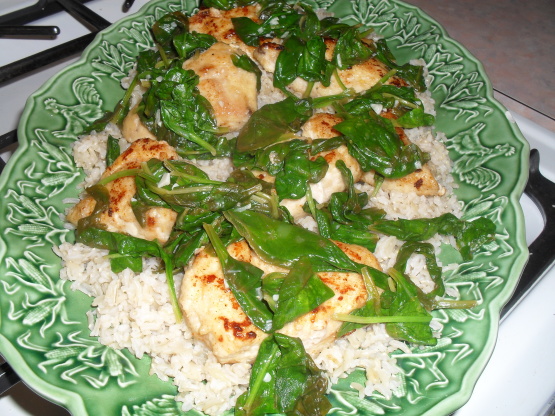 Snagged from an advertisement in Southern Living and adapted for our tastes. Wilted spinach in a lemony "gravy" to spoon over chicken and the starch of your choice. Wild rice is a nice one to try.

My brother and I loved this, my mother tolerated it, husband wouldn't eat the spinach, 4 yr old ate the spinach but looked as if she was going to gag LOL. I still rate it 5 stars because atleast two of us thought it was a winner, but if you are not into lemony/tartish flavors you probably won't like this. My baby spinach held it's color really well, nice bright green. I didn't have dry white wine so I used some Vermouth cooking wine. I didn't use so much garlic, 1tbs and a bit maybe a 1tsp.
Preheat oil in skillet. Cook spinach and onion over medium heat until just wilted. Remove from skillet and set aside.
Combine flour, salt and pepper. Dredge chicken in flour.
Melt butter in skillet. Add chicken. Cook about 4-5 minutes per side, just until golden brown. Remove chicken to heated dish.
Add broth, wine, lemon juice and garlic. Deglaze pan and cook sauce about 2 minutes, until reduced by half. Add spinach.
Plate chicken over starch of choice (rice, potatoes or pasta). Pour spinach and sauce over all to serve.
May be served "family style" by placing all on a single large platter.