Boomette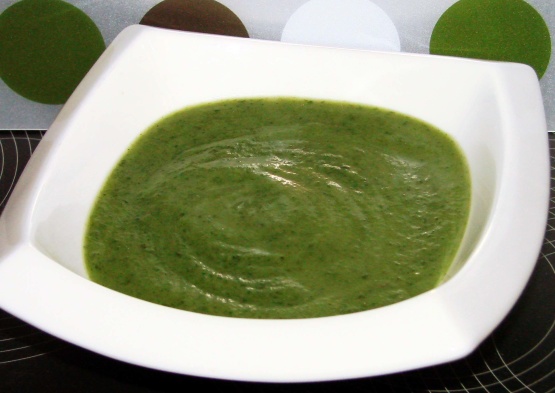 I love spinach cream and this recipe has leek in it. From Ricardo. ETA : I made it on August 27, 2011. I didn't use celery salt. I used a bag of near 170 g of spinach. After I pureed it, I tasted it and liked it that way without anything else. My son that is very picky liked this soup. I was kind of surprised. After he tasted it, he wanted a bowl.
1

leek, mince

2

garlic cloves, chopped

2

tablespoons olive oil
1⁄2 teaspoon celery salt (obtional)

4

cups chicken stock

2

cups potatoes, peeled, diced (about 2 potatoes)

4

cups fresh spinach, packed (about 140 g or 5 ounce)
salt and pepper
In a saucepan, soften leek and garlic in oil. Add celery salt and pepper. Add chicken stock and potatoes. Bring to boil. Cover and let simmer about 15 minutes or until potatoes are tender.
Add spinach and keep cooking 1 minute.
In blender, reduce in a creamy puree and homogeneous. Adjust seasoning. You can serve with firm plain yogurt on top. Or if you have people over, you can use whipped cream instead of yogurt.