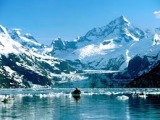 This is such an easy way to make lasagna. The noodles are individually rolled instead of layered. It's pretty enough to serve to guests! I really love this and hope that you do too. :-)
Directions
Preheat oven to 350 degrees.
Cook noodles according to the package directions.
Drain, rinse under cold water and drain again. Set aside.
Squeeze out as much moisture from the spinach as possible.
Stir together spinach, 3/4 cup of the parmesan cheese, ricotta cheese, nutmeg, salt and pepper.
Spread about 1/4 cup of the spinach mixture along entire length of each noodle; roll up noodles.
Stand rolled noodles on end and slightly apart in a greased 9 x 13 baking dish.
Pour spaghetti sauce over noodles.
Bake, covered at 350 degrees for 30-45 minutes.
Sprinkle with remaining 1/4 cup parmesan cheese and mozzarella cheese.
Serve as is, or put in oven until cheese melts.
Enjoy!
Reviews
Most Helpful
Made these yummy lasagna roll-ups tonight for dinner. Once the pasta has been cooked, these rolls come together quickly. The only change I made was to omit the nutmeg. Served with a side salad.

Yum! We enjoyed these lasagna rolls for dinner last night and enjoyed them very much. I used fresh made ricotta from a local market and fresh spinach that I "chopped" in the food processor. Used Paul Newman's marinara sauce, which was very flavorful. Our only comment is that we could have got away with using a much smaller pan than 9x13; maybe even 8x8. Either way, we enjoyed our dinner. Thanks! Made for Spring 2013 PAC.

This was a great dinner and as you stated very easy to make. I really like this because I'm on my own now and don't need to go through all the fuss and muss of a layered lasagna and tons of left overs. I made 4 rolls(2 lunches and 2 dinners) For the sauce I used "Nif's 1 Ww Pt. Spaghetti Sauce" # 397795, I served with garlic bread and salad. It was really enjoyed thank for posting.