PanNan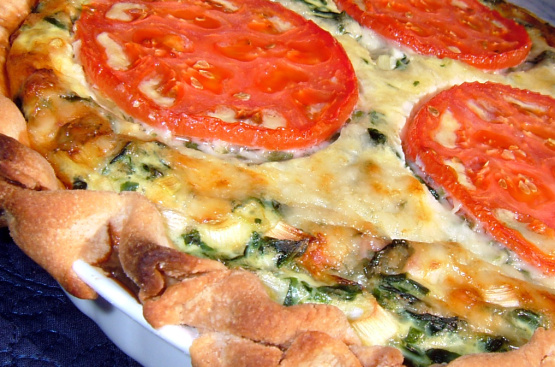 I found this recipe in Woman's Day like 10 years ago. This is a great way to get spinach into your diet without the taste. My family hates spinach and you can't even taste it in this great recipe! Plus it is a great way to use your leftover ham from holiday parties!

Thank you. I have never made a quiche before and was always intimidated by the thought of it being complex. This was easy and very good. I doubled the recipe and added half bacon instead of all ham. It was shared with 5 other families who all ate it and loved it and asked where I got the recipe.
Preheat oven to 400 degrees.
Place crust in pie dish. Pierce with crust with fork to prevent bubbles. PLace dish on cookie sheet.
Bake 10 minutes or until crust is dry.
Let cool.
Whish together eggs and milk. Add the remaining ingredients.
Pour into crust. **.
Sprinkle top with shredded cheese and top with tomatoes.
Bake at 400 degrees for 20 minutes then reduce heat to 350 degrees for 40 minutes.
Note : You may use 1 cup chives, chopped.
**Extra egg mixture can be poured into ramekins and baked on cookie sheet with pie.