MamaCoco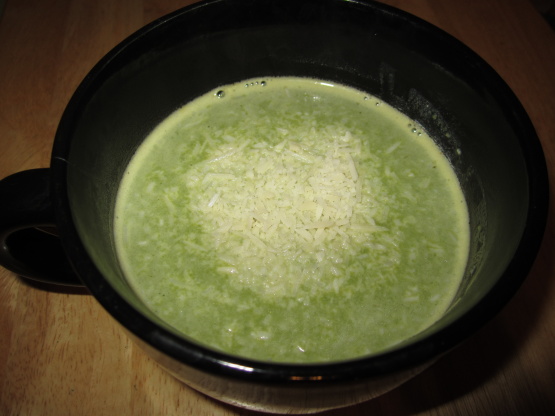 This soup turns to a brilliant green color. My kids take leftovers to school for lunch and ask me to often make this easy soup. I have substitued skim milk for the cream with good results

POST COMMENT: I went back and rated this anyways. It deserves to have at least five stars! I have tried the soup and thats all that matters. It warms your belly while awakening your taste buds.... it is a very hard experience to describe. So try it and see if you can explain the greatness of this soup! Not sure if it is fair for me to rate this seeing as I've had this from the GREAT MissPenny's kitchen itself, so here I am just commenting. EVEN THOUGH this deserves WAY more then five stars!!!!... I remember the first time I had this. I came home from school (then 7th grade) and MissPenny said Here! Try this! Of coure me being a 7th grader thought Ewwww Spinach! Ewwww Green Soup!!!! But MMMMMMMMM the smell just MADE me have to try it, and I have LOVED it EVER since. I miss it now :( With college and all. But there is always the hope of SPINACH GARLIC SOUP in the future :) TRY IT if nothing else...dont shy from the ingreidents or the funky green color! I took it to school for lunch and all my friends turned up their noses... UNTIL they tried it!!!!! WONDERFUL UNIQUE SOUP!!!!!
In a 5qt Dutch oven, bring spinach, broth and carrots to a boil.
Reduce heat; simmer 5 minutes, stirring occasionally.
Remove from the heat; cool to luke-warm.
Meanwhile, in a skillet, saute onion and garlic in butter until onion is soft,about 5-10 minutes.
Add flour; cook and stir over low heat for 3-5 minutes.
Add to spinach mixture.
Puree in small batches in a blender or food processor until finely chopped.
Place in a large saucepan.
Add cream, milk, and pepper, heat through but do not boil.