karen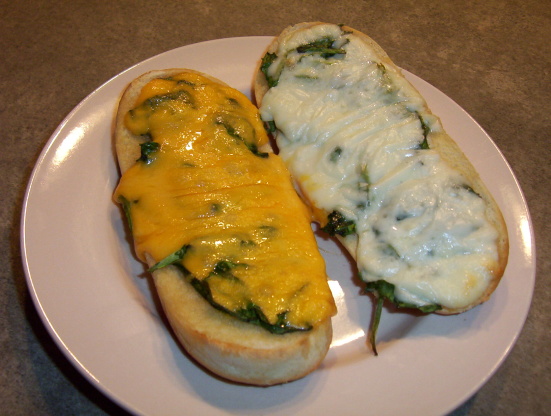 My husband and I use to order this all the time at our local restaurant. After a examining the bread I realized how easy it would be for me to make it at home. With a few tries I have finally prefected it.

Top Review by karen
What a great take on garlic bread! As you can see from my picture, I tried two versions, one with mozzarella and one with cheddar. I used a hoagie bun instead of French bread and garlic spread (so I skipped the garlic powder). The cooking time was just perfect, and I really enjoyed the spinach. I think it would be a great way to sneak spinach into a picky eaters diet too!
1

loaf French bread

2

(16 ounce) bags Baby Spinach (cooked and squeezed drained)
mozzarella cheese, sliced
Cut the french bread in half or in forths (which ever you prefer).
Cut the bread in half lenght wise so now you can open the bread.
Spread butter or your favorite spread over the bread then sprinkle with garlic powder. This will all depend on your taste do as much as you like.
Now place the spinach on one side of the bread and top with mozzeralla cheese. I use the sliced it much easier. But you can also use shredded.
Wrap in aluminum foil if you like or you and just bake it on baking sheets.
Bake in a preheated 350º oven for 10 to 15 minutes until cheese is melted.
Enjoy!