Derf2440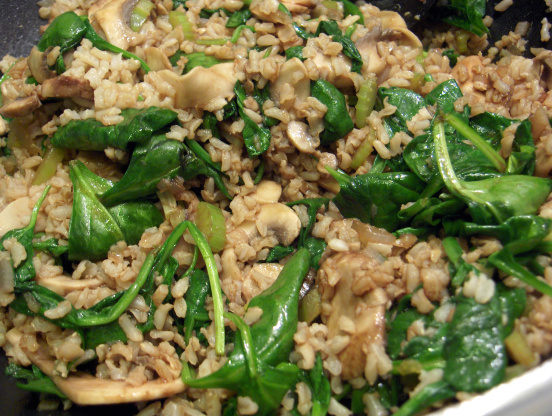 This is an easy to throw together not so "fat" fried rice that give you a way to satisy the craving for "fried"

I made this and followed the recipe, using bok choy and white rice ( DH doesn't care for brown!). My son was over for dinner and we all thought this was very good.Next time,I will try with celery and use chicken broth instead of the white wine, and maybe throw in a few bean sprouts or chopped water chestnuts for some added "crunch"! Thanks, Tish, for posting this "healthy" version!
In a wok or large frying pan over medium high heat, saute the spinach and garlic in the oil for 2 minutes, stirring constantly.
Transfer to a platter In the same pan, heat the wine and saute the celery or bok choy and mushrooms, stirring constantly, for 3 minutes.
Add the rice, scallions and spinach.
Heat through.
Season with soy sauce or tamari.