Spinach Feta Tomato Pizza
jaynine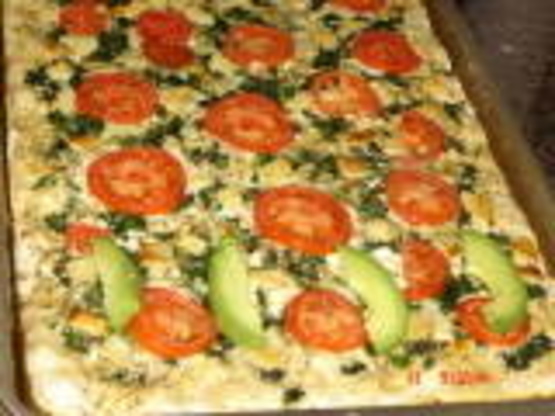 This was a result of craving pizza but not having the 'traditional' ingredients on hand. I'd like to think this is a bit healthier than most pizzas. I listed the avocado as optional because some people can't imagine that on pizza, but it's really good.

So yummy! Went light on the sauce so I didn't have the problem with toppings sliding off but could still taste the alfredo perfectly. Didn't use avocado. Also put the veggies on under the mozzarella cheese. Looks a little neater, but that's just aesthetics.
On top of pizza crust, spread the alfredo sauce evenly.
Sprinkle the Italian seasoning and garlic on top of the sauce.
Add feta, parmesan, mozzarella cheeses.
Spread the spinach across the pizza.
Top with thin tomato slices, and finally, the avocado slices.
Bake at 425 for about 20 minutes, depending on the type of crust you're using.