Nimz1466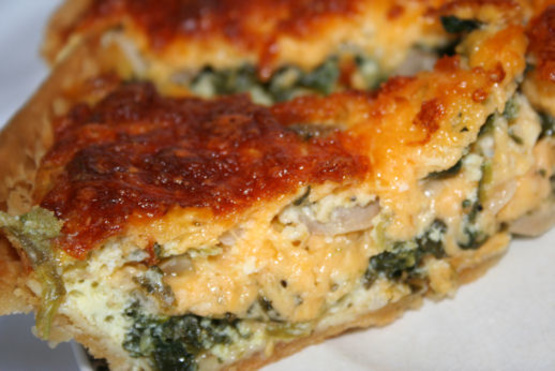 Hands down, this is the best quiche I've ever tasted! The family that I cook for call it "KizziQuiche"... from Allrecipies.com. I've tried it using low-fat ingredients also, with great success!

Delicious: I love spinach and feta and all the other ingredients in this so this recipe was very much my sort of recipe! The only changes I made were to add a handful of baby spinach leaves to the frozen/thawed spinach (for me, there can never be too much spinach in a recipe!), and I used 3 teapoons of garlic ( as for me there can never be too much garlic either!) and the rice crust from my Recipe #147047. Rather than jarred mushrooms, I used fresh sliced mushrooms which I added to the pan in step 2, as I wanted to be sure that they'd released their moisture. I used fresh as I trust them more than some of the canned and bottled mushrooms around. With mushrooms in the recipe, I also just had to add some thyme. My feta had no herbs in it so I added fresh basil. I added the mushrooms, onion and garlic in step 3. Totally yummy quiche, both warm and at room temperature. Thank you for sharing this recipe, Kizzikate. Made for 1-2-3 Hit Wonders.
1⁄2 cup butter

1

teaspoon bottled minced garlic

1

small onion, chopped

12

ounces shredded sharp cheddar cheese, divided

1

cup milk

4

eggs, lightly beaten
salt & pepper, to taste

1

(10 ounce) box frozen chopped spinach, thawed & squeezed dry

6

ounces feta cheese with dried basil and tomato, crumbled

1

(4 ounce) jar sliced mushrooms, drained

1

frozen deep dish pie shell, slightly thawed
Heat oven to 375°F.
In large skillet, saute onion and garlic in butter, app. 5 minuets or until just soft. Remove from heat.
Stir in 6 oz. cheddar, the feta cheese, mushrooms, and spinach. Mix well; place into pie crust.
In medium bowl, whisk together the eggs, milk, salt, and pepper. Pour over spinach mixture, poking holes to allow the egg mixture to seep inches.
Bake 15 minutes. Top with remaining 6 oz. cheddar, continue baking 40 minutes, or until knife inserted in center comes out clean.