Derf2440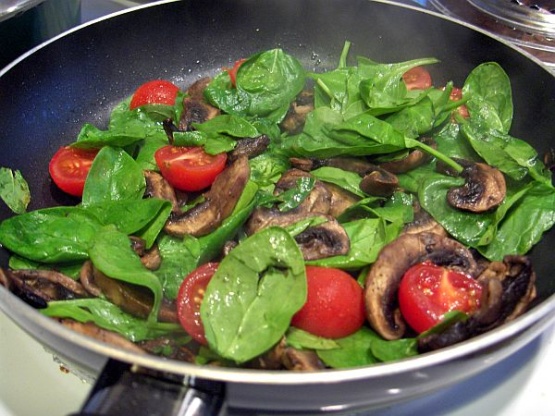 Why is it called El Greco - I don't know it just sounded nice and this is a nice recipe!!. Do not overcook the spinach - about 3 minutes fliping it until it just wilts - that's it. Quick, easy recipe. In the Ingredients it states Italian Plums tomatoes - these are Roma tomatoes It would not take the s off plum

This was a delicious way to serve spinach! but , can you believe it I was out of onions and almonds, so these are missing from this version and I used cherry tomato. The oregano and thyme were perfect with the mushrooms and tomato, loved it and can't wait to try it again with the onion and almonds!! Thanks for another keeper Bergy!
Use a non stick skillet and brown your onions until golden. Use a bit of oil if you wish. Medium heat apprx 10 minutes.
Add mushrooms, if using, cook 2 minutes.
Add your tomatoes, cook 2 minutes.
Add Thyme, Oregano, Salt & Pepper.
Add spinach,cover, Lift lid after 1 minute and flip the spinach, replace lid
Do this one more time -Sprinkle in the almonds- your spinach will be wilted and ready.