Spinach Delight ( Lana's Spinach Salad)
PaulaG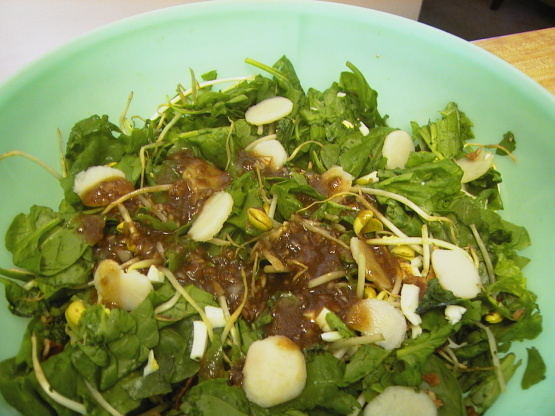 This is my favorite salad. This is easy to put together and it is always adored by everyone. I could make a meal out of this salad alone. Another great recipe from my mother-in-law!

Made for Sunday lunch yesterday, I also used fresh sprouts and only one can of water chestnuts. I actually bought mandarin segments to add and at the last minute decided not to, a wise decision because the salad dressing is unusual and very rich, it really does make the salad. I actually had DS put the salad and dressing together as I finished off other things, as per your note, we kept the dressing separate, and the guests commented that the dressing would go beautifully with meats, etc as well, they thought it was more of a smooth chutney than a dressing! Thank you for an unusual and well-received salad that I'll definitely make again!
Mix dressing ingredients together in jar (be sure to mix very thoroughly and if making ahead, mix thoroughly again before serving).
Place all salad ingredients in a large salad bowl and toss together.
Toss in salad dressing just before serving.
Note: The spinach tends to wilt quickly in the dressing so it is very important not to add the dressing until you are ready to serve.