Spinach Crowns With Sesame Dressing
COOKGIRl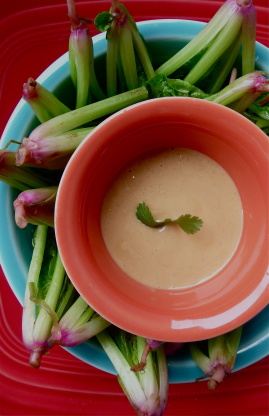 Adapted from Good Food from a Japanese Temple as found on thekitchn.com. From the site: "Spinach crowns (also known as 'spinach feet'!) are the stem clusters at the bottom of the spinach plant (yes, that part you either throw away, compost or use as mash in the pig trough). They are often cut off as most recipes call for spinach leaves only, but temple life has strong ethics around avoiding waste, so this recipe was developed. It is considered simple, everyday food and would be eaten as a side dish. ...Include this dish as part of light dinner, serving it with steamed white rice and maybe some marinated tofu or a small roasted chicken breast. This is one of those recipes where simple ingredients combine to create a dish whose taste and satisfaction go far beyond its basic components. Each of the flavors here -- the green, vegetal spinach with the salty soy, zippy vinegar and rich tahini -- compliment and enhance each other without overcrowding the palate."

I LOVED THIS!!!! The sauce is awesome and the crowns cook up crisp-tender and with way more flavor than you would expect. DH didn't care for it but he isn't a big fan of tahini. The sauce was creamy, salty and slighty bitter - just fabulous!!! Made for ZWT6 by a fellow Looney Spooner but I'll be making it again - SOON!
Important: *Be sure to rinse the spinach crowns well* to remove all traces of sand/grit/dirt.
Combine the tahini, soy sauce, rice vinegar, and sake in a small bowl and whisk until smooth. Set aside.
Have a strainer and a bowl of ice water handy.
Bring a medium-sized pot of salted water to a simmer and add crowns. Blanch the crowns for a minute or two. They should be bright green and cooked, but still crisp.
Remove them from the heat, strain, and immediately plunge into the ice water to stop the cooking. Drain very well again.
Place spinach crowns in a bowl and drizzle with the sauce (there may be some leftover.).
Serve at room temperature.