Kim127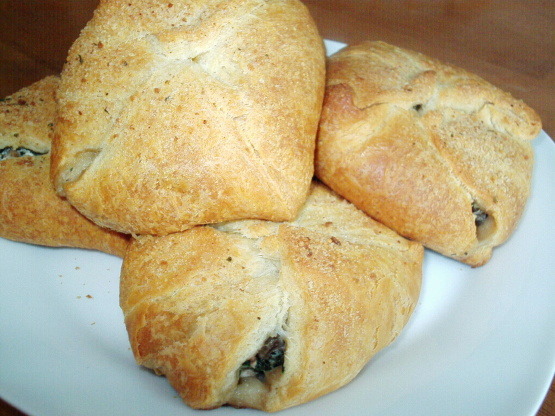 This is a creation of mine that was inspired by a chicken crescent square recipe. I took the ingredients from some of my baked spinach casseroles, tweeked them, and came up with this impressive looking vegetable. Great for a fancy dinner party or a romantic dinner.

Top Review by helowy
I'm not going to give a star rating because I changed some things and I don't want to give an unfair rating. I left out the mushrooms so that my family would try these. Since I left out the mushrooms, I cut back on the cream cheese and sour cream. Based on others' comments I added some fresh parmesan cheese to the mixture and used seasoned breadcrumbs. The squares were easy to assemble and baked up perfectly in 20 minutes. Unfortunately, none of us liked them all that much. They certainly weren't bad, but we were all wanting something more like creamed spinach in a crescent roll. Using the parmesan and seasoned bread crumbs certainly prevented blandness. And I still LOVE the idea of these--i just want to fiddle w/ the filling. Made for PAC fall 2007. Thanks karen.
Preheat oven to 350 degrees.
In a mixing bowl, combine sour cream and cream cheese until smooth.
Add garlic powder, then spinach and mushrooms.
Separate dough into 6 rectangles on an ungreased baking sheet. Seal seams by pinching dough.
Place 1/2 cup mixture on each square.
Pull 4 corners of dough to the top and twist to seal. Seal edges by pinching.
Brush with melted butter and sprinkle with bread crumbs.
Cook for about 20 minutes or until golden brown.