Annacia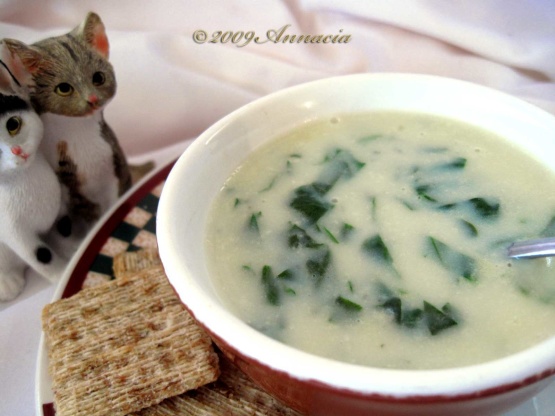 From the book "Qu'est-ce qu'on mange volume 3". This is a recipe I like to do again and again. And I never use the heavy cream and almonds.

Delicious. I didn't use any of the options and enjoyed it very much. I used roasted garlic puree and while the flavor was very nice I didn't like the little spots in the soup, I would have preferred small chunks of garlic (just thought I'd mention that in case someone else thought of using the puree). I will be making this again as I almost always have these ingredients at hand. Made for Photo Tag,
2

tablespoons butter

2

tablespoons oil

1

onion, finely chopped

1

garlic clove, mashed

1

cup spinach, finely chopped

3

tablespoons flour
2 1⁄2 cups chicken stock, warm
1 1⁄2 cups milk

1

teaspoon nutmeg
1 1⁄2 lemons, juice of (optional)

6

tablespoons heavy cream (optional)

2

tablespoons slivered almonds, grilled (optional)
In a casserole, heat butter and oil. Cook onion and garlic 3 to 4 minutes at medium heat.
Add spinach and stir well. Sprinkle with flour and keep cooking 1 minute while stirring.
Add chicken stock. Bring to boil. When it begins to boil, reduce the heat and let simmer about 20 minutes, until thickness.
Remove from the heat and let cool.
Puree in a blender until homogeneous.
Put back in the casserole. Add milk, pepper and nutmeg. Let boil 2 to 3 minutes to reheat.
Pour in soup bowls. Sprinkle each serving with a few drops of lemon juice, then with 1 tablespoon of heavy cream by forming a spiral. Sprinkle with almonds.