Spinach Cottage Casserole
Nif_H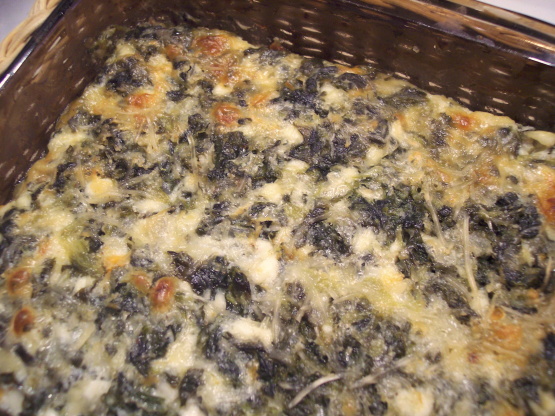 I received the original recipe from a close friend's mom who makes it for every holiday dinner. I took the original and tweaked it a bit to suit my tastes by adding garlic, nutmeg, cream cheese and the variety of cheeses. By the way, the leftovers (which I can eat hot or cold) make a FANTASTIC omelet filler or pizza topping. I have had this as a side dish with duck, turkey, chicken, ham, roast beef, meat loaf and pork ribs. It seems to meld with anything and everything. For a Greek variation, add some feta cheese to the mix. This low-carb dish is also a great crock pot recipe, just mix all the ingredients together and heat on low for 8 hours.

I am not a cook but was desperate to find a spinach recipe for my meager contribution to Thanksgiving dinner. First time I've ever searched on the web and it turned out fantastic. I used all full fat ingredients (I did decide against nutmeg) and it was not runny at all. It really looked pretty in the dish when done. Everyone loved it and it was more than enough for 10 people with some leftover.
Mix the garlic and onions together in a microwaveable dish (I use a Pyrex measuring cup) and microwave for 2 minutes (until the onions are translucent).
Once the onions are cooked, thoroughly mix all the ingredients together and pack it into a casserole dish.
Dot the top with butter, sprinkle on parmesan cheese.
Bake for 1 hour at 350°F.