Parsley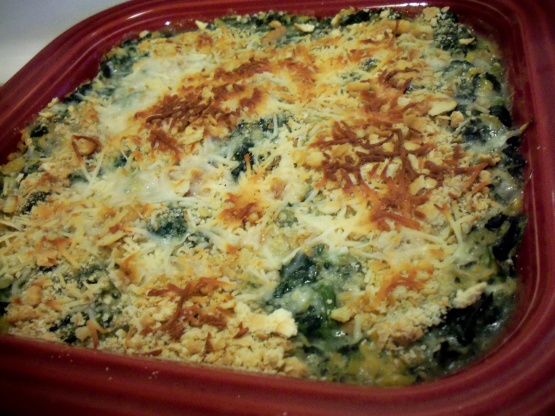 This is one of my favorite ways to have spinach.

This is such an easy and delicious dish! Creamed corn is one of those weird fixations I have had since childhood :) <br/><br/>When I first made this, it came out pretty bland and watery. Since then, I have added about 1/2 cup of grated Cheddar cheese, and it makes all the difference! I've also found that 30 minutes, rather than 20, is the adequate baking time.
Preheat oven to 400 degrees. Warm frozen spinach in a saucepan over medium heat. Drain excess liquid. Combine spinach, onion, and creamed corn in casserole dish. Melt 1 tbsp margarine and add to casserole dish. Add vinegar, salt, and black pepper. Mix ingredients together. Spread 1/2 cup of bread crumbs and 2 tbsp Parmesan cheese over top of casserole. Melt remaining margarine and drizzle over topping. Bake for 20 to 30 minutes.