JustJanS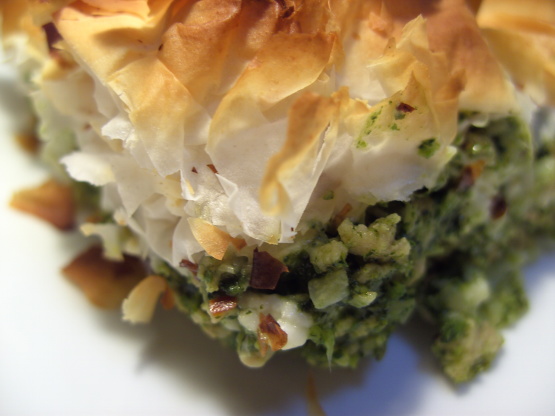 This is a protein-rich all-in-one-meal. Recipe is from Family Circle.

Yummy thanks Lainey. I scaled this back to make a little pie for the two of us although I used a whole box of spinach and 4 sheets of filo. It was so good I want it again. I used two teaspoons of lemon infused olive oil to cook off my onion and chicken-it was a good addition. I think this would be really good served with a yoghurt and mint sauce and will do that next time.
Heat oven to 375 degrees F.
Coat 13x9x2-inch baking pan with nonstick cooking spray.
Melt butter in large skillet over high heat.
Add onion and reduce heat to medium; cook 5 minutes.
Add chicken and cook 8 minutes, until no longer pink.
Add spinach, salt, pepper, nutmeg and red pepper flakes.
Cook 5 minutes.
Transfer to a large bowl.
Stir in cheese, eggs and oregano.
Place a half sheet phyllo in bottom of pan.
Coat with cooking spray.
Repeat with 7 more half sheets, coating each sheet with cooking spray.
Spread spinach mixture over top.
Repeat with remaining 8 half sheets.
Cut top layer in 8 equal pieces.
Bake at 375 degrees for 45 minutes, until top is browned.
Recut to serve.