Spinach Chicken Enchiladas
bubby3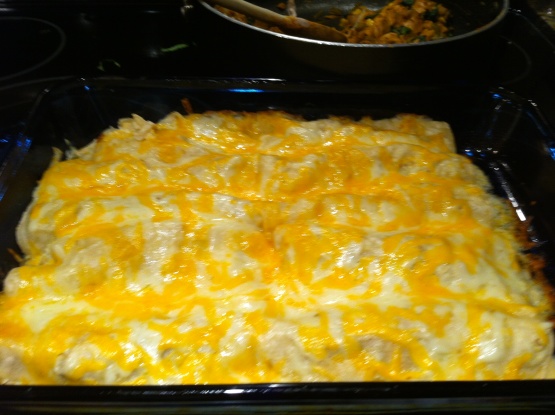 These are really rich and yummy in a Mexican Crema Sauce. They'll work well with left-over chicken

This recipe came together very easily following your directions. I wasn't quite sure how my guys were going to react to spinach in their enchiladas but they both loved these. I think I must have used about a pound of chicken breast filets in mine and was able to get 10 very full enchiladas. The only thing I did differently was that I added a 4 oz. can of green chiles to the Crema before spreading it over the enchiladas. Very delicious! Thanks Greffete!
Over Med to Med/Low heat add broth and onion to a sauce pan or skillet. Simmer covered until onions start to become translucent.
Add Shredded Chicken, Drained Spinach, Creole Seasoning, Cumin and Garlic Powder. Stir & Simmer until all ingredients are heated through (most of broth should be evaporated) Drain any remaining liquid and let cool to manageable temperature.
In the meantime preheat oven to 425°F.
Soften Tortillas by your preferred method. I wrap them (fanned out like cards in a circle) in a damp towel and microwave approximately 1 minute.
When Chicken/Spinach mixture has cooled, mix in 1/2 - 2/3 of shredded cheese.
In a 15x10x2 glass casserole Lightly sprayed with Pam or canola oil spray I assemble the Enchiladas (I just eyeball how much mix per tortilla). Load up the tortillas and roll one at a time. Finishing seam side down. I like to keep them from touching each other before adding sauce.
Spoon enough Crema Mexicana over each Enchilada to cover, sprinkle the remaining cheese over the top. Cover with foil and bake in preheated over at 425°F for 10-12 minutes. Remove foil and if desired (should be hot and bubbly) Broil for 1-2 minutes.
Serve topped with sliced jalapeños or your favorite salsa. Goes great with Spanish rice or refried beans.
Enjoy!