vrvrvr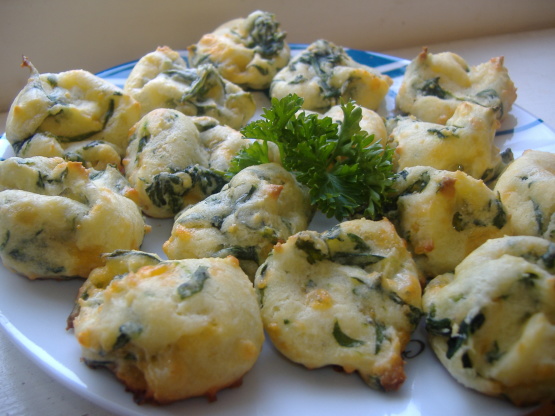 Top Review by vrvrvr
As my mother-in-law might exclaim, "Boy Howdy! Are these great!" I made these as directed, using some shredded sharp cheddar to make enough cheese with the Swiss. I also used a 9 oz. bag of fresh baby spinach -- just cooked it briefly in a skillet over medium-high heat, then drained (using about a hundred paper towels!), then chopped. My puffs are very spinachy, but that's fine with me. I started off dropping these by tablespoonfuls, as directed, but soon realized I could get more "bang for my buck" by using just teaspoonfuls to drop them. (The photo I posted is of the teaspoonful-size.) They baked up a little more evenly (less done on the bottoms) and golden, using the smaller amount of dough for each puff -- plus I'll get more in the end! I made these to serve at a party I am hosting in two days (I figure I will refrigerate until the party and then reheat in a warm oven) but I don't know...there might not be any left to serve. Rich, savory, melt-in-your-mouth tasty, make the house smell great...these are 5-star fantastic!
Drain spinach; squeeze dry with paper towels.
In 3-quart saucepan over medium heat, heat milk, margarine or butter, and salt until margarine melts and mizture boils.
Remove saucepan from heat.
With wodden spoon, vigorously stir in flour all at once until mixture forms a ball and leaves side of saucepan.
Add eggs to flour mixture, 1 at a time, beating well after each addition, until mixture is smooth and satiny.
Stir in Gruyere and parmesan cheeses and spinach.
If not baking right away, cover surface of mixture with plastic wrap and refrigerate.
Preheat oven to 375 degrees.
Lightly grease 2 large cookie sheets.
Drop batter by level tablespoons onto cookie sheets, about 1 1/2 inches apart.
Bake 15 to 20 minutes until cheese puffs are golden brown.
Arrange appetizer and garnish on platter; serve immediately.