~Nimz~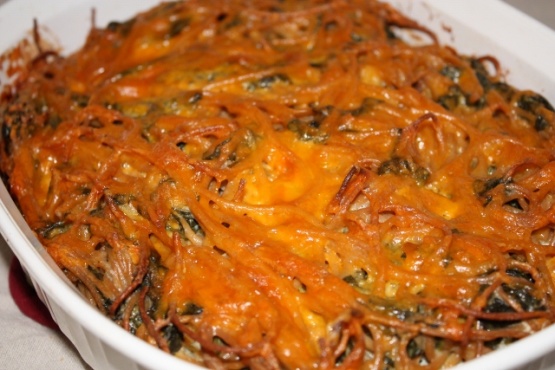 From a 30-year-old book of recipes from the Beverly Hills Branch of Haddasah. Some good!

Top Review by ~Nimz~
Very, very good. I used multi-grain spaghetti instead of the egg noodles as a personal preference and cut the recipe in half which I think may have made it a little on the dry side. I used fresh spinach that I sauteed in a little Smart Balance blend because I don't like frozen. I believe I used a little more that 5 oz of spinach but we love spinach. We loved the flavor that the onion soup added to the recipe. I think this would be great with a little added chopped bacon. We will make this one again. Thanks so much for sharing.
Cook noodles according to package directions.
Meanwhile beat eggs and add sour cream, onion soup mix, and drained spinach. Beat together.
Drain noodles, add egg mixture to noodles and mill well.
Pour into 9" x 13" casserole, and sprinkle cheese on top.
Bake at 350 degrees for one hour. Allow to set 10 minutes before cutting.