Spinach, Cheese, and Sausage Stuffed Shells OAMC
teresas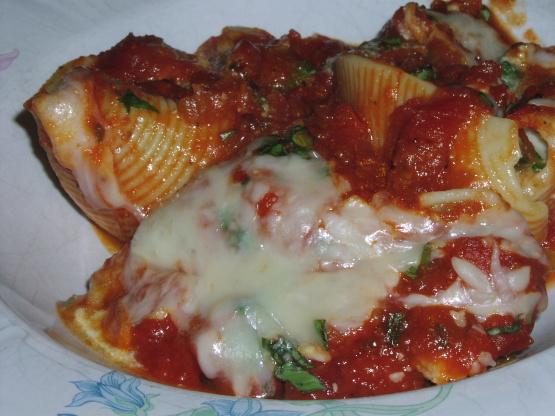 I found this in a magazine and decided to try it. So glad I did! I made it for the first time last night and it is really great. I used 9 oz. fresh spinach instead of the frozen spinach, and it worked great. My husband even liked it, and he is not normally a spinach person. I used most of a 26 oz jar for 1/2 a recipe, so you may need more sauce than called for. I'm sure you could use homemade, too. Be flexible! Also, this recipe makes quite a bit. I am cooking for two people, and I froze half the stuffed shells for another time, and there were still plenty of leftovers. Freezing them works great! I flash froze the stuffed shells on a cookie sheet, then dumped them in a ziploc and stashed them in the deep freeze. I let them defrost for a day. Then you just have to add sauce, and cook! Perfect weeknight meal, but good enough to serve to company.

Delicious! I cut the recipe in half (so I did not freeze any) I wanted to lower the fat so I used recipe #250462 in place of ground sausage. DH who really hates turkey loved the dish. Of course I didn't tell him...I also used egg beaters and skim cheeses along with fresh spinach.The full 26 oz jar of sauce was used. The only thing that was missing was some salt. I sprinkled some fresh basil on top. Thanks for posting. :)
Cook pasta shells according to directions. Drain, rinse, and let drain again.
Saute onion in oil about 5 minutes. Add ground sausage and garlic. Cook until sausage is done. Cool.
Beat egg slightly. Add ricotta cheese, mozzerella cheese, parmesan cheese, spinach, and cooled sausage mixture. Mix well.
Stuff shells. (This is where I flash-froze half of them).
Put 1 c of spagetti sauce in bottom of corningware (or 9x13 pan, or something else). Add shells. Pour the rest of the sauce on top. Sprinkle with more mozzerella or parmesan cheese, if desired.
Cook at 350 for 30 minutes, covered. Cook 10 minutes uncovered.