flower7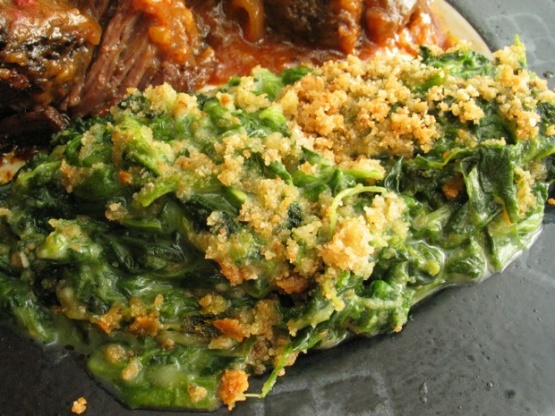 I don't know where this originally came from. My mom always made it for holiday meals; it turned three spinach-hating kids into three begging-for-spinach kids. It's still, almost 50 years later, a staple at family dinner events.

This is very good creamed spinach! I cut the recipe down to 1/2 qt since I'd be the only one eating it and I didn't want a ton of leftovers. Skipped the onion but definitely used the Worcestershire. I also used skim milk. I didn't realize until after I'd thawed it that the spinach was supposed to be left frozen but it still worked out fine. I baked at 325 for 50 min (it was bubbling like mad!) and it was perfect. Served alongside recipe #297197 and it was an excellent combination. Thanks for sharing your family recipe!
1⁄2 cup butter
1⁄2 cup flour (matzo cake meal for Passover)
1⁄2 teaspoon salt
1⁄4 teaspoon pepper

2

cups milk

3

(10 ounce) packages frozen chopped spinach
1⁄2 teaspoon grated onion (or to taste, grated onion goes very far)
1⁄2 teaspoon Worcestershire sauce (or to taste)
1⁄2 cup fine dry breadcrumb (matzo meal, not matzo cake meal, for Passover. This amount is an approximation)
Melt butter, blend in flour, salt & pepper, stir and bubble one minute.
Remove from heat and stir in milk. Bring to boil, stirring constantly. Boil one minute, stirring.
Drop in still frozen spinach and cook until thawed.
Season with grated onion and Worcestershire Sauce to taste (approx 1/4 to 1/2 tsp each. Start small and taste as you add. A little goes a long way.).
Place in casserole, top with buttered bread crumbs. (Buttered bread crumbs: 2-3 Tbsp butter, melted, pour in fine, dry bread crumbs.).
Bake at 325F (or 350F) for at least one hour.
Passover 1965 - 8 pkgs spinach, double sauce recipe, made 3 1/2 quarts.
Passover 1970 - 6 pkgs spinach, double sauce recipe, made 3 quarts.