flower7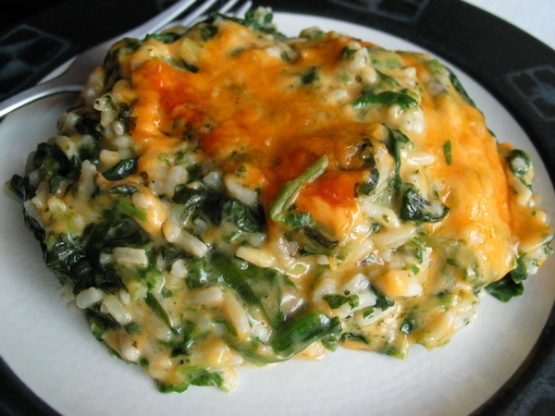 This is actually how I make my Broccoli Casserole, but I actually picked up the wrong ingredient and it turned out great and I also got alot of compliments.

This is better than a boxed rice mix! I made with broccoli because I didn't have spinach and it was great. I used the full can of cream of mushroom soup, but I used the low fat/low salt type so I didn't have the too creamy issue. Because I used the light soup I added some garlic salt and dehydrated minced onions to add a little extra flavor. Thanks for a great dish. Next time I will likely decrease the butter as it did end up a little greasy.
Cook frozen spinach in a pot of water until it starts to boil.
Drain spinach and put in a round casserole dish.
Add the other ingredients and mix well.
Bake in the oven on 350 until the cheese is bubbling. Enjoy.