Pamela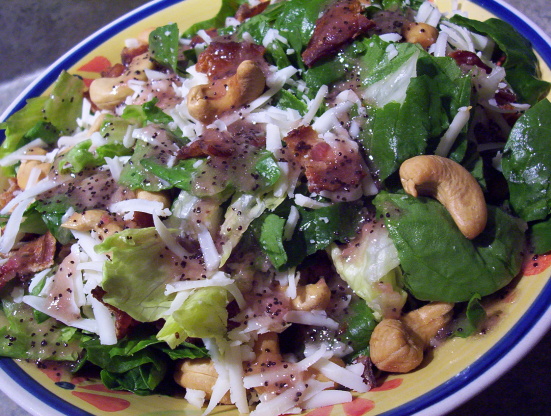 When choosing salads as a low-fat diet choice be careful of ingredients used and the amount of dressing drizzled over the salad. Both can add up fat grams and calories quickly.

This is really an outstanding salad. My DD likes the dressing so much that we use it on other salads also. But be warned, it is possible to blend the dressing too long so it emulsifies into a gelatinous goop, something like mayonnaise. Guess who did that one? The first time I made it, i wanted to use the blender to chop up the onion ... oops! Now I still put a chunk of onion in the blender with the vinegar, but hold the rest of the ingredients until the onion is pretty much pulverized.
Chop bacon and fry until crisp.
Drain on paper towel to remove as much excess fat as possible. Wash spinach and lettuce then tear leaves into bite size pieces.
Place in Salad bowl.
Add cashew pieces, grated cheese, and crumbled bacon.
Toss when ready to serve. Serve with poppy seed dressing.
NOTE: Fat grams may be reduced to 1 gram per serving if bacon and cashews are eliminated.
Each add approximately 3 grams of fat per serving.
Poppy Seed Dressing: Place all ingredients in blender and blend until smooth.
Alternate method: finely grate onion, add remaining ingredients and beat with mixer until well blended.