Spinach Balls (Fried or Baked Recipe)
katew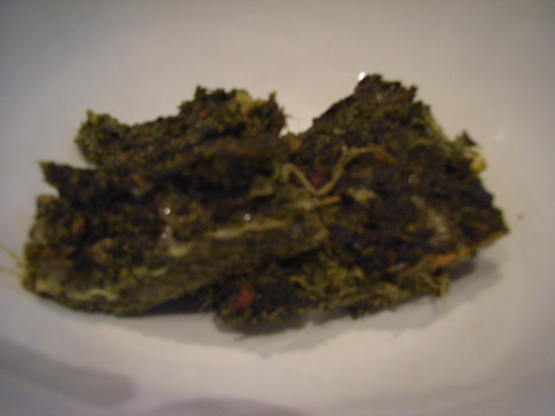 Freezable before baking; no need to defrost.
Top Review by katew
Due to lack of time I made this as a baked slice in a rectangular casserole dish and cut it into squares and served it with sweet chilli sauce and it was marvellous. I followed the recipe exactly using frozen home grown spinach. Made for Everyday is a Holiday.
Saute onions and minced garlic in butter; place in large mixing bowl with undrained spinach, egg, breadcrumbs, 1 cup Romano, salt, nutmeg, black and cayenne pepper; mix thoroughly. Let mixture sit for 5 to 10 minutes to absorb moisture. Form into 1" balls.
To fry:.
Heat 1 inch of olive oil in large skillet. Fry in small batches until golden, 3 to 6 minutes, turning once; do not overcook or they will be dry. Drain on toweling. Skim drippings between batches.
To bake:.
Preheat oven 350 degrees. Spray baking sheet arranging spinach balls and spraying balls lightly. Bake uncovered until golden for about 25 minutes; do not overcook.
Garnish with additional Romano. Serve warm or room temperature with marinara to dip.