Derf2440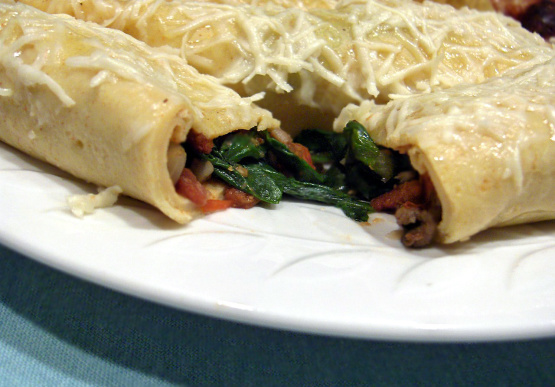 NB There was a wrong amount for the mace in the recipe - It said 1 tsp. It is now corrected to the correct amount of 1/4 tsp. Easy Tasty appetizer. Can be a "Do ahead" recipe. If you wish you can make this as a side dish for dinner just double the size of the crepes. The crepes as appetizers should be apprx 6" across. The recipe may be cut in half or doubled. Make a large batch of crepes they freeze really well. Just layer them with wax paper between each and wrap well in plastic . Then you will have them on hand for any easy appetizer - Enjoy!
Crepes

2

eggs
1⁄2 cup all-purpose white flour
1⁄2 cup milk

1

tablespoon water
1 1⁄2 teaspoons cayenne, peppers ground

Filling

1

medium tomatoes, chopped

6

tablespoons cooking onions, chopped

8

tablespoons white mushrooms, chopped
1⁄4 teaspoon mace, ground
salt & pepper

4

cups spinach, fresh, chopped, firmly pressed into the cup

2

slices bacon, fried, crumbled (optional)

8

tablespoons asiago cheese, grated
Beat together the crepe ingredients.(Egg, Flour, Milk & water).
Pour approx 3 tbsp of batter into a no stick heated pan (medium High heat) swirl around to form a 6" crepe.
Cook 1 minute flip and cook a further 1/2 minute.
Remove & place on a plate with a pieces of wax paper covering it. Continue til you have cooked all the crepes.
Filling:.
Saute the tomato, onion & mushrooms in a medium size fry pan until the onion is translucent (approx 5 minutes).
Add Salt & Pepper & Mace.
Add spinach and stir until the spinach has wilted - (add bacon if using).
Place 2 1/2 tbsp of filling on edge of each crepe, roll up and place it in an oven proof dish.
You may now set the ready crepes aside until 10 minutes before serving or continue to the end of the recipe.
Sprinkle the Asiago over the crepes.
Bake in 375 oven for 10 minutes. If the asiago isn't golden broil for a minute.
Serve warm.