Spinach & Artichoke Stuffed Rolled Bread
najwa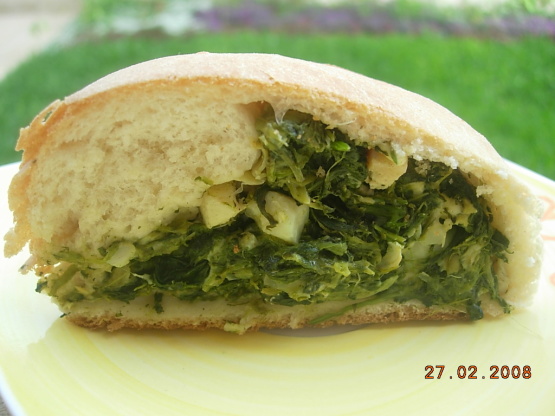 I just watch Rachael make this and it looks easy and yummy! I can't wait to make it! Note: I have noted that the artichoke, spinach and pizza dough are 8 ounce sizes. Use whatever size you have available.
In a large bowl, combine the artichoke hearts, spinach, provolone, Asiago, lemon zest, thyme, garlic, salt and ground pepper.
Unroll the pizza dough onto on a baking sheet with the long edge facing you. Be careful not to stretch it too much.
Pour the filling into the middle of the dough, shaping it into a thick log running lengthwise down the center of the dough.
Fold one edge of the pizza dough over the filling, then fold the other half over to seal the filling inside the dough. Turn the stuffed bread over on the sheet pan so the seam is on the bottom. Brush with EVOO and sprinkle sesame seeds over the top.
Bake the stuffed bread until evenly golden brown, 15-18 minutes. Cool slightly before slicing.