Spinach, Artichoke, & Pesto Lasagna
estout12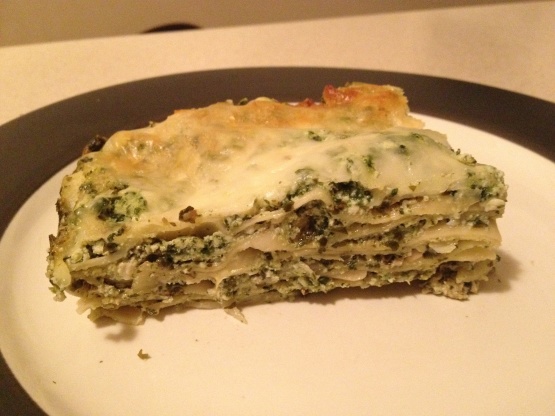 The base idea for this recipe came from a diet cookbook, but I've made a great many changes over the years. This is one of my favorite recipes, because it's very flavorful and reheats well. I usually use no-boil lasagna noodles for convenience, but have also had very good results with whole-wheat lasagna noodles boiled just to the point of being slightly "under cooked". Also, the shredded mozzarella can be replaced with pre-shredded "mixed Italian cheeses" available at most grocery stores. Finally, the Classico brand pesto tends to be very liquid, which is good for this recipe. If you can't find this brand and the pesto that you use is very thick, try mixing in a teaspoon or so of olive oil.

This is a great recipe. I added some extras; Mushrooms, red bell pepper, shredded carrots and zucchini. Then Mixed the half basil pesto sauce (omited the rest) with home made alfredo sauce. AMAZING!!!

Alfredo sauce;3/4 cup milk, 1/2 cup grated parm, 1 pkg cream cheese.
Preheat oven to 350°F.
Lightly coat a 9" X 13" baking dish with cooking spray (or rub with olive oil).
Thaw and only partially drain frozen spinach if using no-boil noodles. If using traditional boiled noodles, completely drain spinach.
Blend ricotta and tofu in medium mixing bowl. Season to taste with Italian Seasoning, Basil, Garlic Powder, Parsley, Salt, and Pepper and then stir in the spinach.
Spread a small amount of pesto on the bottom of the baking dish, and cover with four slightly overlapping lasagna noodles.
Spread about 1/4 of the spinach, ricotta, and tofu mixture on the noodles. Top with half the artichoke hearts and half the sliced garlic.
Add four more noodles and spread about 1/3 of the remaining pesto on them, then repeat step 6.
Sprinkle approximately 1/3 of the shredded mozzarella on this layer.
Add four more noodles and spread with pesto and spinach, ricotta, and tofu mixture as above.
Add last four noodles. Spread with remaining pesto and spinach, ricotta, and tofu mixture and top with remaining shredded mozzarella.
Cover baking dish with aluminum foil and bake for 45 minutes.
Remove foil and bake an additional 10 - 15 minutes uncovered, until cheese is nicely melted and very slightly browned around the edges.
Let stand 5 - 10 minutes before serving.