Spinach & Artichoke Mashed Potatoes
Izy Hossack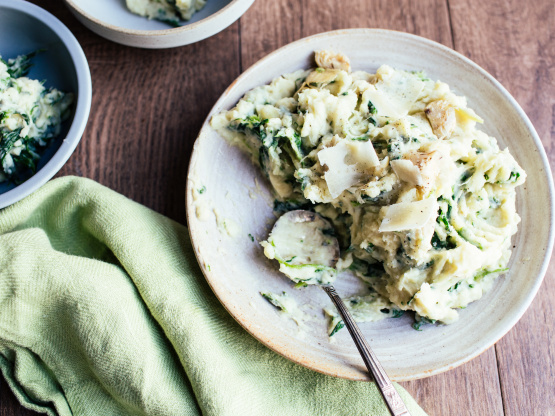 It's spinach & artichoke dip meets mashed potatoes in heavenly harmony. You'll never want one without the other again!

Great way to add some pizzazz to ordinary mashed potatoes. I made a few changes because I'm lazy, but I don't think they affected the outcome. I left the potatoes unpeeled, because It's a pain to peel baby potatoes. I also did not puree the artichokes because I did not want to get out the processor, so I just finely chopped the artichokes instead. Great side dish!
Cover potatoes in cold, salted water in a large saucepan. Bring to a boil, reduce heat to medium and simmer for 20 minutes or until soft.
Meanwhile, puree half of the artichoke hearts in a food processor. Set aside.
Roughly chop remaining artichokes. Set aside.
Defrost spinach. Thoroughly squeeze dry and season to taste with salt and pepper. Set aside.
Drain potatoes. Return to the saucepan. Add the pureed artichokes, margarine, parmesan cheese, sour cream, milk, and garlic to the potatoes. Blend with a hand mixer until creamy.
Fold in chopped artichokes and spinach. Season to taste with salt and pepper.